UK services stagnates as Brexit uncertainty squeezes economy – business live | Business
[ad_1]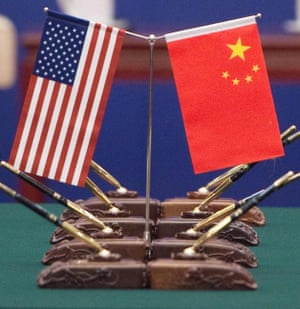 Good morning, and welcome to our rolling coverage of the world economy, the financial markets, the eurozone and business.
Global stock markets are continuing to rally today, on hopes that Washington and Beijing will sign a preliminary trade deal this month.
Optimism is rising, thanks to reports that the two sides could roll back some tariffs, to get the much-anticipated Phase One trade deal over the line.
China has pushed for recent tariffs imposed by president Trump to be removed, and US officials are apparently taking the request seriously.
This would mean rolling back the latest curbs on Chinese imports, introduced in the autumn when the trade war last escalated.
As the Financial Times explains:



According to five people briefed on the discussions, the White House is considering rolling back levies on $112bn of Chinese imports — including clothing, appliances, and flatscreen monitors — that were introduced at a 15 per cent rate on September 1.

The US move would meet a core demand from Beijing as negotiators from the world's two largest economies work out the terms of a ceasefire to be signed in the coming weeks by Donald Trump and Xi Jinping.
With Trump eager for a 'success' ahead of the presidential elections, the markets are anticipating a high-profile signing ceremony soon.
As Ipek Ozkardeskaya of London Capital Group explains:



According to the latest news, the US is now debating whether to remove a part of tariffs imposed on Chinese imports on September 1st.

Such a charming move from the US would help breaking the ice between the two parties and pave the way towards a partial deal in the coming weeks. Or this is at least what investors are betting for.
However, China will have to give something in return. Pledging to buy more agricultural goods from American farmers is a start, but the US wants to see better protection for intellectual property too.
Asia-Pacific markets are rallying again today, hitting their highest levels in six months.
Last night, all three Wall Street indices closed at record highs for the first time since July, on optimism of a trade deal.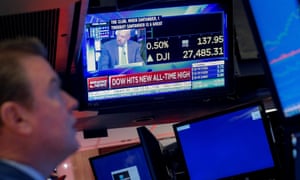 European markets hit a 21-month high yesterday, and are expected to rise further today. Auto stocks – always vulnerable to trade jitters – had a strong day.
But is the rally built on firm foundations, given global growth has slowed this year and many companies missed expectations or trimmed their outlook recently?
Valuations certainly look quite high at the moment.
As Paul Donovan of UBS Wealth Management puts it, there is 'optimism unbound' right now:



Equities are back to believing that all is for the best in this best of all possible worlds.
Also coming up today
We'll find out how Britain's services sector coped last month, in the run-up to the October 31st Brexit deadline that never was. Economists predict a small drop in activity.
Yesterday, we learned that UK construction output dropped quite steeply, as uncertainty continues to bite.
America's service sector is forecast to have done better, with a small rise in activity.
The agenda
9.30am GMT: UK service sector PMI for October – expected to rise to 49.7, from 49.5, showing a small contraction
1.30pm GMT: US trade balance for September – expected to rise to 51.1, from 51.0, showing modest growth
3pm GMT: US service sector PMI for October


[ad_2]

Source link Google news