UK coronavirus live: government wants to extend Leicester lockdown by two weeks to fight outbreak | Politics
[ad_1]

Good morning. I'm Andrew Sparrow, joining the blog for the day.
Earlier this morning Times Radio launched with an interview with Boris Johnson. He was taking questions from the two morning show presenters, Aasmah Mir and Stig Abell. It wasn't a broadcast that will be winning any awards, but it was perfectly fine and very professionally – exactly what you might have heard on Radio 5 Live on a normal day. Johnson did not arrive with anything to announce, and much of what he said sounded familiar, although if you listened carefully, his remarks did clarify some themes. Here are five things we learned.
1 – Johnson's post-coronavirus agenda for change is – much the same as it was before coronavirus. Towards the end of the interview he said he wanted to wanted to set out a plan to "bounce forward" following the pandemic. He said:



This has been a disaster, let's not mince our words, this has been an absolute nightmare for the country.

The country has gone through a profound shock. But in those moments you have the opportunity to change and to do things better.

We really want to build back better, to do things differently, to invest in infrastructure, transport, broadband – you name it.
This desire to "build back better" will be the theme of a speech Johnson will give tomorrow. But it sounds very much like a rehash of the vision set out in the Conservative party's 2019 manifesto, which promised to achieve high spending through lavish spending, particularly on infrastructure in the north of England. Johnson admitted as much at another point in the interview, when he said:



What we will be doing in the next few months is doubling down on our initial agenda, which was all about investment.
Some people have been arguing that the coronavirus crisis should trigger a much wider rethink of the way society is organised, looking at, among other things, working patterns, travel, education, racial inequalities, adult social care, urban design and tourism. But, judging by Johnson's remarks today, those are not issues he is keen to explore.
2 – Johnson seems to have little worry about borrowing increasing massively, because he sees it as an investment that will "pay off". This is what he said when it was put to him that, although the government is borrowing more to respond to the coronavirus crisis, it would have to balance the books eventually. He said:



I do think that the investment will pay off, because this is a very, very dynamic, productive economy. And the way to get UK business confident and growing is to give the private sector the confidence to invest in capital, in skills, in people.
3 – Johnson does not accept that "austerity" was the right word to describe what happened in the last decade. He has repeatedly said that under his premiership there will be no return to austerity, and he repeated that line today. But he also somewhat confused his message by claiming that austerity was not the right word to described what happened in the past. He said:



In the end what you can't do at this moment is go back to what people called austerity – it wasn't actually austerity but people called it austerity – and I think that would be a mistake.
Johnson may have been referring to the fact that overall spending did rise in cash terms of most of the last decade, even though many services faced severe cuts. When he asked if he was ruling out public sector cuts, he ignored the question, and just focused on the increased spending announced on schools.
4 – Johnson confirmed that the government is now using Franklin D Roosevelt as a role model. He said:



I think this is the moment for a Rooseveltian approach to the UK.
This shows that when Michael Gove cited FDR as a hero in a speech (pdf) at the weekend, he was not just speaking for himself, but articulating a viewed shared by No 10. Gove devoted much of his speech to the lessons that could be learnt from FDR (a Democratic president, who has more often been cited as an inspiration by politicians on the left like Gordon Brown). Gove said:



FDR managed to save capitalism, restore faith in democracy, indeed extend its dominion, renovate the reputation of government, set his country on a course of increasing prosperity and equality of opportunity for decades – and enabled America to emerge from a decade of peril with the system, and society, that the free citizens of the rest of the world most envied.

He succeeded on such a scale, of course, because he was a remarkable leader.

But there were principles underpinning his approach which I think we should learn from now, as we seek to overcome our own crises of authority.
5 – Johnson revealed that he still has doubts about introducing a "sugar tax" – even though he has now changed his thinking about obesity. He said that he used to take a "very libertarian stance" on obesity. But he said that now, as a result of his experience in his hospital (being overweight increases the risk from coronavirus, and Johnson believes his weight contributed to him ending up in intensive care), he was more persuaded of the need for government to address this problem. He said:



We certainly must have a care for the health of our population and we will be happier and fitter and more resistant to diseases like Covid if we can tackle obesity.
But, when asked specifically about the sugar tax, he demurred, implying he still had his doubts about this proposal.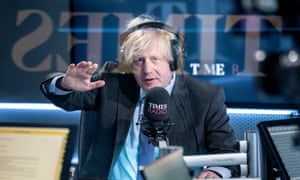 [ad_2]

Source link Google news