The coronavirus is creating food waste mountains that increase global warming
[ad_1]

Mountains of food, including eggs, milk and onions, are going to waste.
Shuttered restaurants, cafés and canteens have led to a drop in demand.
Excess food rots to create methane, a potent greenhouse gas.
UN warns methane levels may rise sharply in the crisis and immediately after.
The excess food supply has also caused food prices to collapse.
Gluts of food left to rot as a consequence of coronavirus aren't just wasteful – they're also likely to damage the environment.
Mountains of produce, including eggs, milk and onions, are going to waste as the COVID-19 pandemic shutters restaurants, restricts transport, limits what workers are able to do and disrupts supply chains. And as that food decays, it releases methane, a powerful greenhouse gas.
Fresh milk and eggs have been dumped, and some ripe crops reploughed back into fields, according to reports in the Wall Street Journal and the New York Times. While consumer demand for some supermarket items has risen as a result of lockdowns, it's unlikely to offset steep declines elsewhere, such in restaurants and school and workplace canteens.
The first global pandemic in more than 100 years, COVID-19 has spread throughout the world at an unprecedented speed. At the time of writing, 4.5 million cases have been confirmed and more than 300,000 people have died due to the virus.
As countries seek to recover, some of the more long-term economic, business, environmental, societal and technological challenges and opportunities are just beginning to become visible.
To help all stakeholders – communities, governments, businesses and individuals understand the emerging risks and follow-on effects generated by the impact of the coronavirus pandemic, the World Economic Forum, in collaboration with Marsh and McLennan and Zurich Insurance Group, has launched its COVID-19 Risks Outlook: A Preliminary Mapping and its Implications – a companion for decision-makers, building on the Forum's annual Global Risks Report.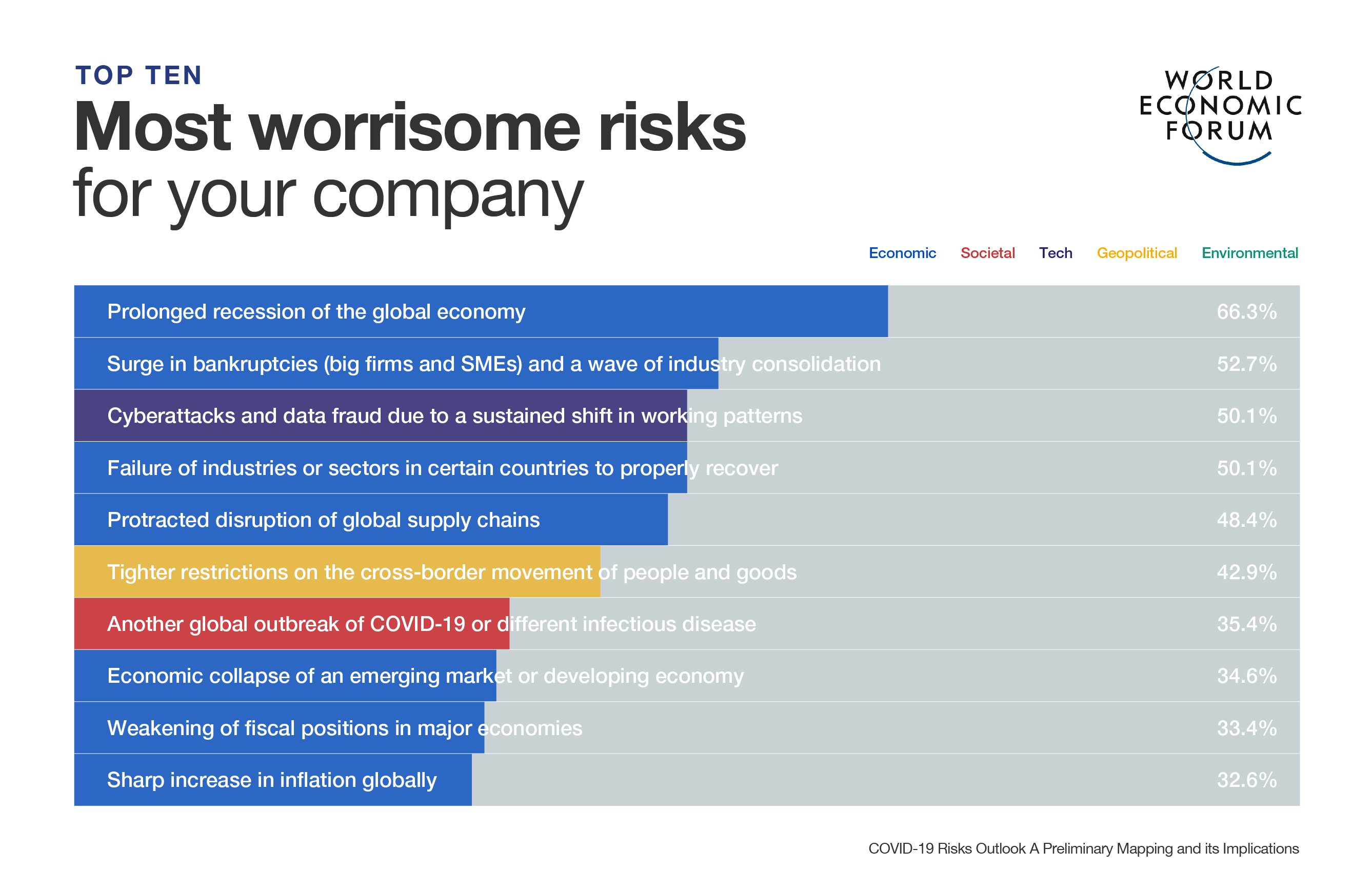 Climate change poses an urgent threat demanding decisive action. Communities around the world are already experiencing increased climate impacts, from droughts to floods to rising seas. The World Economic Forum's Global Risks Report continues to rank these environmental threats at the top of the list.
To limit global temperature rise to well below 2°C and as close as possible to 1.5°C above pre-industrial levels, it is essential that businesses, policy-makers, and civil society advance comprehensive near- and long-term climate actions in line with the goals of the Paris Agreement on climate change.
The World Economic Forum's Climate Initiative supports the scaling and acceleration of global climate action through public and private-sector collaboration. The Initiative works across several workstreams to develop and implement inclusive and ambitious solutions.
This includes the Alliance of CEO Climate Leaders, a global network of business leaders from various industries developing cost-effective solutions to transitioning to a low-carbon, climate-resilient economy. CEOs use their position and influence with policy-makers and corporate partners to accelerate the transition and realize the economic benefits of delivering a safer climate.
"Many export-oriented producers produce volumes far too large for output to be absorbed in local markets, and thus organic waste levels have mounted substantially," says Robert Hamwey, Economic Affairs Officer at UN agency UNCTAD . "Because this waste is left to decay, levels of methane emissions, a greenhouse gas, from decaying produce are expected to rise sharply in the crisis and immediate post-crisis months."
Dumping food was already a problem before the crisis. In America alone, $218 billion is spent growing, processing, transporting and disposing of food that is never eaten, estimates ReFED, a collection of business, non-profit and government leaders committed to reducing food waste. That's equivalent to around 1.3% of GDP.
Since the pandemic took hold, farmers are dumping 14 million litres of milk each day because of disrupted supply routes, estimates Dairy Farmers of America. A chicken processor was forced to destroy 750,000 unhatched eggs a week, according to the New York Times, which also cited an onion farmer letting most of his harvest decompose because he couldn't distribute or store them.
The excess has also seen prices collapse. The FAO Food Price Index (FFPI) averaged 162.5 points in May 2020, down 3.1 points from April and reaching the lowest monthly average since December 2018. The gauge has dropped for four consecutive months, and the latest decline reflects falling values of all the food commodities – dairy, meat, cereal, vegetable – except sugar, which rose for the first time in three months.
All this while the pandemic is exacerbating other global food trends.
The World Economic Forum has launched its Great Reset initiative, which urgently calls for global stakeholders to cooperate in managing the consequences of the COVID-19 crisis. It calls on policymakers to put the environment at the heart of plans to rebuild as we emerge from the pandemic.
[ad_2]

Source link Google news