Profits warnings from British Airways, Pearson, and Imperial Brands – business live | Business
[ad_1]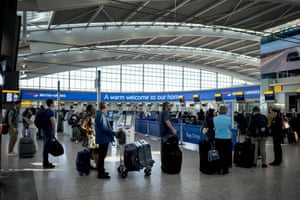 Good morning, and welcome to the rolling coverage of the world economy, the financial markets, the eurozone and business.
A hat-trick of profits warnings have hit the City this morning, led by IAG, the parent company of British Airways.
IAG brought shareholders down to earth with a bump this morning – by revealing a €215m hit to its earnings.
Much of the damage was caused by pilot strikes on the 9th and 10th of September, plus another strike scheduled for tomorrow which was called off.
This forced BA to cancel thousands of flights. It also relaxed its rebooking rules to help customers. In all, the pilot strikes have cost €137m (£121m) of lost profits.
It told shareholders:



During September, BALPA's (British Airways main pilots' union) industrial action initially scheduled for the 9, 10 and 27 led to an initial cancellation of 4,521 flights over a period of seven days. Subsequently, 2,196 flights were reinstated leaving 2,325 cancellations. British Airways also introduced flexible commercial policies on 4,070 flights not directly affected by the industrial action. These policies enabled customers to re-book flights or receive a refund.

The net financial impact of the industrial action is estimated to be €137 million.
The threat of separate strikes by Heathrow Airport employees also hit earnings, IAG adds, costing the company €33m.
But that's not all…. It also warns that "the latest booking trends" at its budget airlines, including Spanish operator Vueling Airlines, have deteriorated.
This will have "an adverse financial impact of €45 million", it says, taking the total hit to €215m.
That's quite a headache for IAG, especially as it still hasn't resolved the pay row with its pilots.
But IAG isn't alone. Tobacco firm Imperial Brands and publisher Pearson have also just warned that earnings are weaker than expected – a worrying sign for the markets.
More to follow….
Also coming up today:
New US trade figures, and updated GDP data, will show how America's economy is faring. Plus we'll hear from central bankers at an ECB conference in Frankfurt, led by outgoing president Mario Draghi.
The agenda
9am BST: European Central Bank publishes Economic Bulletin
1.30pm BST: Third estimate of US GDP for April-June
1.30pm BST: US trade data for August
2.30pm BST: ECB president Mario Draghi speaks in Frankfurt


[ad_2]

Source link Google news