Gold hits six-year high as geopolitical tensions bubble – business live | Business
[ad_1]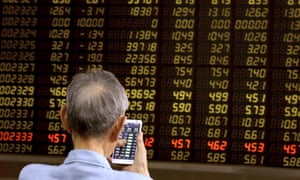 Good morning, and welcome to our rolling coverage of the world economy, the financial markets, the eurozone and business.
Jitters over the US-China trade war and tensions in the Middle East continue to buffet markets.
Overnight, Iran has hit back at America's decision to impose new sanctions on its supreme leader, Ayatollah Ali Khamenei, saying it has slammed the door of diplomacy shut.
So, with president Trump accusing Iran of "increasingly provocative actions", the threat of military action in the Gulf hasn't gone away.
Most Asian stock markets have dipped overnight, and we're expecting a weaker start in Europe too.
Investors have one eye on the Middle East, and another on the upcoming G20 meeting of world leaders in Japan.
The markets would like to see Trump cut a ceasefire deal with president Xi. But China isn't rolling over; yesterday, Chinese Vice Commerce Minister Wang Shouwen said both sides need to compromise. Hawkish US officials aren't in the mood to compromise on issues like forced technology transfer, though.
So faced with this picture, investors are piling into safe-haven assets.
Gold has hit a six-year high today, currently changing hands at $1,426 per ounce for the first time since 2013 (when eurozone crisis worries were raging). That's an increase of nearly 1%, adding to recent gains.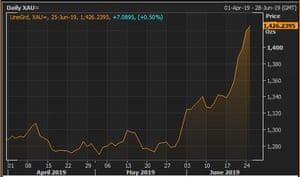 Ipek Ozkardeskaya, analyst at London Capital Group, says money is "pouring into gold".
She adds:



Investors are reluctant to move their capital elsewhere in the middle of a worsening US-Iran thunderstorm and ahead of the G20 summit.
Traders are also shunning the US dollar, which is on its longest losing stretch in a year and a half.
They're expecting the Federal Reserve to start slashing interest rates next month, especially now Trump is accusing them of childish incompetence…
Also coming up today
In London, MPs will be questioning the Financial Conduct Authority. Andrew Bailey, head of the City watchdog, can expect some tough questions over the Neil Woodford crisis.
We're also expecting new UK retail sales figures, and US consumer confidence and housing data — which may bolster the case for an interest rate cut.
The agenda
1oam BST: The FCA testifies to the UK Treasury Committee
11am BST: CBI survey of UK retail sales in May released
2pm BST: US house price index for May
3pm BST: US consumer confidence stats for June


[ad_2]

Source link Google news