German manufacturing slump raises fears over eurozone growth – business live | Business
[ad_1]

Halifax: UK house prices fall 0.2% in July
House prices in the UK have fallen for a second month, according to Halifax, one of Britain's biggest mortgage lenders. The average price of a home dropped 0.2% in July from June to £236,120, while the annual growth rate slowed to 4.1% from 5.7%. In June, prices fell by 0.4%.
Russell Galley, managing director at Halifax, said:



The average UK house price fell slightly for a second month, as the market continues to tread water with marginal increases or decreases in each monthly period. That said, it's worth remembering that while economic uncertainty continues to weigh on the market, the overall trend actually remains one of comparative stability, with average prices down by less than £600 over the last three months.

We have seen a reported drop off in the number of properties sold during the early months of summer, which may lead some to speculate a downturn is on the horizon. However, new buyer enquiries are up, and favourable mortgage affordability – driven by low interest rates and strong wage growth – should continue to underpin prices for the time being.

In the longer-term, we believe there is unlikely to be a step change in market activity until buyers and sellers see some form of resolution to the current economic uncertainty.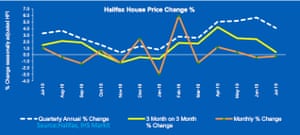 German industrial slump raises recession fears
The poor German industrial production figures have raised the spectre of a recession, according to some economists. The German economy is widely expected to have at best ground to a halt in the second quarter, following 0.4% growth in the first quarter.
The German government expects the economy to grow just 0.5% this year, picking up to 1.5% next year.
Andreas Scheuerle from DekaBank expects an economic contraction of 0.2% in the second quarter.



We assume that this is the prelude to a technical recession.
A technical recession is defined as at least two consecutive quarters of contraction. Preliminary figures for the second quarter, from April to June, will be released next Wednesday by the German Federal Statistics Office.
Updated

The FTSE 100 index in London is trading 7 points lower after the open, slipping 0.1% to 7164. Meanwhile, European shares are higher in early trading.
Germany's Dax up 0.6%
France's CAC 40 up 0.3%
Italy's FTSE MiB up 0.18%
Spain's Ibex up 0.5%
Andrew Kenningham, chief Europe economist at Capital Economics, says the fall in German production has killed off hopes of a recovery in the third quarter. Germany relies heavily on exports, and has been hit hard by trade disputes.



The breakdown shows that the fall was fairly broad-based, affecting all major sectors except for construction, where output was up marginally.

Business surveys uniformly point to a further contraction in July, so things look set to get worse rather than better – even if the US refrains from imposing tariffs on the EU and a no-deal Brexit is avoided.
In the second quarter as a whole, German industrial output fell by 1.8% compared with the previous quarter, driven by steep declines in metal production, machinery and car manufacturing.
Carsten Brzeski, chief economist at ING Germany, says the slump bodes ill for GDP growth in the second quarter.



Looking ahead, despite yesterday's encouraging industrial orders data, the combination of high inventories and few orders at hand does not bode well for industrial production in the months ahead. Add to this a further escalation of the current trade conflicts, Brexit and an ongoing structural transformation in the automotive sector and the outlook doesn't look any better. Against this background, recent tentative signs that the domestic economy's resilience is crumbling are concerning.

All in all, we would characterise today's industrial production report as devastating, with no silver lining. Today's data also shows that we should prepare for contraction in the German economy in the second quarter, unless exports bring an unexpected surprise on Friday.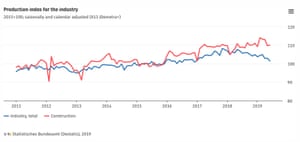 Updated

Introduction: Markets remain tense amid US-China standoff
Good morning, and welcome to our rolling coverage of the world economy, the financial markets, the eurozone and business.
Markets remain on tenterhooks as the standoff between the US and China in their prolonged trade dispute continues.
Following a two-day sell-off in global stock markets, the mood lightened yesterday after the Chinese central bank fixed the yuan at a slightly firmer rate, while strongly rejecting Washington's branding of Beijing as a currency manipulator.
European stocks traded higher for most of the day but closed lower. The FTSE 100 index in London was under more pressure as the pound strengthened, and fell 0.72%. Wall Street staged a recovery, with the Dow Jones rising 1.2% and the S&P 500 gaining 1.3%.
Donald Trump hinted strongly yesterday that he was ready to dig in for the long term in the trade war, tweeting he was prepared to provide support for US farmers in 2020 should they face pressure from China.
German figures out this morning showed a monthly fall of 1.5% in industrial production in June, far steeper than the 0.4% drop predicted by economists and compared with 0.1% growth in May. This adds to signs that Europe's biggest economy shrank in the second quarter, which will act as a drag on the eurozone.
Andrew Kenningham, chief Europe economist at Capital Economics, says:



The 1.5% fall in German industrial production in June kills off any hopes that the strong orders data published yesterday marked the beginning of a recovery.
Asian shares fell for an eighth day, with Japan's Nikkei losing 0.33% while Hong Kong's Hang Seng slipped 0.09%. New Zealand's central bank stunned markets by cutting interest rates by a half-point to 1% and said rates could even go below zero.
Looking ahead to the European opening, Craig Erlam, senior market analyst at trading platform Oanda, says:



European futures are looking a little flat ahead of the open on Wednesday as investors watch on nervously for any further escalation in the trade war between the US and China.

We've gone from being hopeful a couple of weeks ago that talks in Shanghai would aid progress towards a deal and the removal of tariffs, to new tariffs, China no longer buying US agricultural goods and the US labelling China a currency manipulator. That's some escalation in a little over a week.
The agenda
8:30am BST: UK Halifax house prices (July)
Updated



[ad_2]

Source link Google news