German business confidence rises; Hong Kong shares surge – business live | Business
[ad_1]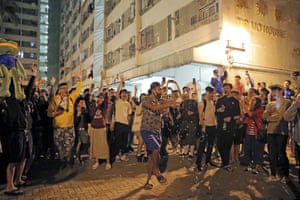 Good morning, and welcome to our rolling coverage of the world economy, the financial markets, the eurozone and business.
Hong Kong's stock market is sizzling today, after pro-democracy candidates secured a stunning win in the City's district council elections.
Amid a record turnout, pro-democracy activists swept to victory = and will now control 17 of the 18 councils in the region.
The news has driven shares higher, on hopes that the result raises the chances of a peaceful resolution to the crisis. It certainly undermines claims that most Hong Kong citizens approve of the administrations hard-line approach.
Many young, first-time candidates ousted experienced, pro-Beijing councillors, in a key test of public opinion following months of demonstrations and increasingly violent clashes that have gripped Hong Kong and driven it into recession.
The surprise success of the Civil Human Rights Fronts (CHRF) group is a boost for the pro-democracy movement, and a bruising blow to pro-Beijing DAB party.
Hong Kong's Hang Seng index has leapt by 1.5%, up 411 points to 27,006.
Stephen Innes of AxiTrader explains:



Risk assets have opened favourably in the wake of a sensational voter turn out in Hong Kong, where the pro-democracy camp was headed for a stunning victory.

And what's equally remarkable is that 71 % of registered voters cast their ballots, suggesting it will be difficult for Beijing to ignore these results for fear of greater international condemnation in the court of the public opinion. The people have spoken, and now the ball is in Beijing court.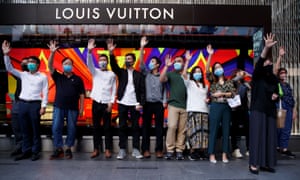 Here's our news story on the elections:
We'll be tracking the financial reaction here.
Also coming up today
European stock markets are expected to open higher, lifted (not for the first time) by trade war optimism.
Late last week, president Donald Trump said a deal with China was 'very close' – although such hopes have been dashed before…
We also get a new healthcheck on German business confidence, and UK retail sales.
The agenda
9am GMT: IFO index of German business climate- expected to rise to 95, from 94.6
11am GMT: CBI index of UK retail sales – expected to remain at -10


[ad_2]

Source link Google news