French companies pick up pace, but Germany still struggling – business live | Business
[ad_1]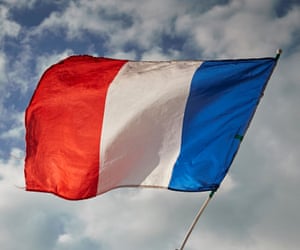 Good morning, and welcome to our rolling coverage of the world economy, the financial markets, the eurozone and business.
France's economy is picking up speed this month, boosting hopes that a eurozone recession could be avoided.
A new healthcheck on the French private sector, just released, shows that private sector growth accelerated in August.
The monthly 'flash' PMIs, from data firm Markit, show that French services sector firms grew at their fastest rate in nine months. Factories returned to growth, after suffering a contraction in July.
This lifted the overall French purchasing managers index to 52.7 in August from 51.9 in July. Any reading over 50 shows growth, so this suggests the French economy is picking up.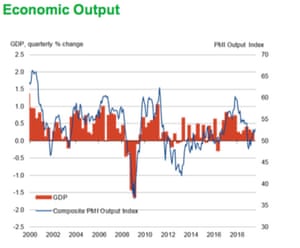 French companies reported a jump in orders this month, including export orders. That could show a pick-up in the global economy, after some tough months.
We'll find out shortly how Germany is faring, along with the rest of the eurozone….
Also coming up today
Central bankers are heading to Wyoming, for the annual Jackson Hole Symposium. This year's meeting is overshadowed by concerns over the global economy, and speculation that America could drop into recession in 2020.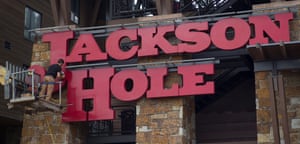 Financial markets will be looking for hints that US interest rates could be cut soon, with Federal Reserve chair Jerome Powell speaking on Friday
Yesterday, Donald Trump launched his most personal attack yet on Powell's competence, comparing him to a golfer who can't putt and raging that US borrowing costs are unfairly high.
Powell surely can't enjoy the tirade of criticism flowing towards the Fed from the White House; investors are wondering whether he will cave into the pressure and slash rates aggressively.
The Fed has already cut rates in July, of course. But the minutes of that meeting, released last night, showed that policymakers were split.
Most supported the 25 basis-point reduction, but a couple wanted a bigger cut and some wanted to leave rates unchanged. That suggests there will be some big arguments within the Fed about what to do next…..
Traders will also be watching Rome, where the Italian president is leading efforts to form a new government, and Paris, where Boris Johnson and Emmanuel Macron will be discussing Brexit.
The agenda
8.15am BST: French flash PMIs for August
8.30am BST: German flash PMIs for August
11am BST: CBI survey of UK retail sales
2.45pm BST: US flash PMIs for August


[ad_2]

Source link Google news