Donald Trump tariff threat hangs over global stock markets – business live | Business
[ad_1]

Risks to global financial stability have increased, according to the European Central Bank
Risks to the stability of the global financial system have increased as shadow banks have lent more money to businesses in place of traditional lenders, the European Central Bank (ECB) warned on Wednesday.
Regulators around the world have increased their scrutiny on the banking sector since the financial crisis a decade ago. While central banks believe that has made the banking sector safer, there are growing concerns that a financial shock could leave shadow banks – such as investors, insurance companies and pension funds – exposed.
The ECB said:



In the event of a sudden repricing of financial assets, growing credit and liquidity risk in some parts of the euro area non-bank financial sector – coupled with higher leverage in investment funds – may lead non-banks to respond in ways that cause stress to spread to the wider financial system.
Low interest rates have been an important part of the shadow banking phenomenon, as investors seek better returns.
Luis de Guindos, vice-president of the ECB, said:



While the low interest rate environment supports the overall economy, we also note an increase in risk-taking which warrants continuous and close monitoring.

Authorities should use available tools to address the build-up of vulnerabilities where possible.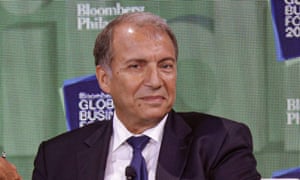 An interesting story from the Financial Times (£) this morning for watchers of the UK's most systemically important bank: HSBC is reportedly set to replace its investment banking head.
Interim head Noel Quinn took over in August with a remit to cut thousands of staff, after his predecessor John Flint was ejected after barely 18 months in the job – reportedly for moving too slowly on improving returns. Now the shake-up could extend to the top of the bank.
The FT said that Samir Assaf, head of global banking and markets, is expected to be moved to a non-executive role to allow a successor in who could shrink the unit serving the fundraising needs of large companies, citing people briefed on the matter.
The top riser anywhere on the FTSE 350 is Mitchells and Butlers, the restaurant owners bucking the struggles of many other consumer-facing companies (cf. Kingfisher today).
The owner of brands such as Harvester, Toby Carvery and Nicholson's pubs reported like-for-like sales growth of 3.5% for the year ending 28 September. It increased adjusted operating profits by £14m, or 4%, and revenues and profits before tax also rose.
It even managed to cut net debt (although it is still 3.6 times earnings before interest, tax, depreciation and amortisation).
Phil Urban, the company's chief executive, said:



These strong results reflect the work we have done over the last few years, first to build sustained sales growth and then to convert that into profit growth. It has been extremely encouraging to see an improvement in like-for-like sales growth across the portfolio during the year, fuelled by our Ignite programme of work.

This puts us in a stronger position as we move forward into the next financial year, in what we expect to remain challenging market conditions.
An hour into trading, and blue-chip shares in London are down by 0.9%, accelerating losses from initial exchanges.
The mid-cap FTSE 250 has lost 0.6%.
Kingfisher is the biggest faller, down by 6.9%, while accounting tech company Sage Group and insurer Aviva have lost 3.6% and 3.3% respectively.
On the latter two, from Reuters:
Sage reported a 13% drop in full-year organic operating profit to £432m on Wednesday as its margin was squeezed by increased investment in its cloud and subscription products.
Shares in Aviva slid on Wednesday after the British insurer announced it would reorganise into five divisions and sell its stake in its Hong Kong business, falling short of investor expectations for a broader change in strategy.
But in a show of support for the beleaguered American manufacturer, Emirates revealed an $8.8bn (£6.8bn) order for 30 of Boeing's 787-9 Dreamliners.
However, Reuters reported the deal could allow Emirates – negotiating on its home turf in the Dubai air show – to reduce orders for Boeing's other twin-aisle jet, the 777X, which has been delayed after engine issues.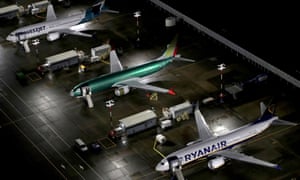 Air shows in recent months have been dominated by one thing: the crisis at Boeing over the grounding of the 737 Max. At the Dubai air show the top US regulator has indicated that it will have knock-on effects on the rest of Boeing's business.
The head of the US Federal Aviation Administration (FAA) said the regulator will be tougher on the certification of the Boeing 777x, its twin-aisle jet.
FAA administrator Steve Dickson also repeated the message that the FAA was not following any timeline for the return to service of the grounded 737 MAX model, its lead single-aisle offering, and said time pressure cannot influence the FAA's regulatory process.
Here's the full story on Twitter's rebuke of the Conservative party over its misleading "factcheckUK" account.
While Twitter has come out strongly against the tactic of renaming the account, the matter could reignite concerns over political misinformation on its platform.
Speaking on BBC Radio 4's Today programme, Will Moy, the chief executive of indepedent checkers Full Fact, said Twitter should have acted sooner and could have forcibly renamed the account.
Read more here: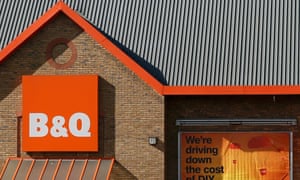 B&Q owner Kingfisher is the biggest faller on the FTSE 100 this morning – with shares off by 7%.
A quick glance at Kingfisher's statement will give some clues why: there is a palpable sense of a new boss clearing the decks.
The first five words of Thierry Garnier's statement to the stock market might – to an uncharitable reader – be seen as diverting the blame for the DIY retailer's problems towards former management: "In my first eight weeks" …
A 3.7% like-for-like sales fall in its third quarter and talk of too much complexity signal that there could be some more tough times ahead.
Garnier said:



As a team, our priority is to fix our operational issues – particularly in IT and supply chain in France – and refocus our efforts. This includes stopping or pausing a number of initiatives to concentrate on stabilising performance and trading. The effect of these changes will not be immediate.
Analysts at MUFG Bank note that the response to the Hong Kong protests is a key diplomatic factor that could be affecting the trade talks.
Lee Hardman and Fritz Louw, currency analysts at MUFG, highlighted a US Senate bill yesterday aimed at supportingprotesters in Hong Kong that warned China against a violent suppression of the demonstrators. China responded with a threat to retaliate if it becomes law. They wrote:



The developments have put at least a temporary dampeneron building optimism over a US-China trade deal including the possibility of larger roll back of tariff hikes.



Bloomberg reported yesterday that the two sides are locked in tough negotiations on a phase-one pact linking the size of tariff roll backs to the preliminary terms set in the failed deal from May. The White House is still reportedly debating the precise percentage of tariffs to roll back in response to China's demand to remove all tariffs imposed after May immediately and then tariffs imposed before that to be lifted gradually. […]

A larger tariff roll back would be an encouraging development for financial markets and help further ease downside risks for the global growth outlook.
Let's have some more reaction to the big story driving markets around the world in the early morning (as so often in the last two years): the trade rhetoric rollercoaster.
The back and forth can be contradictory and confusing but overall the US and China are making progress towards an interim deal, bets Mark Haefele, chief investment officer at UBS Global Wealth Management. He said:




In our base case we now see the US and China agreeing a Phase 1 deal that, at a minimum, averts additional tariffs. The initial agreement would likely include a resolution of less critical issues such as China's purchases of US agricultural products and opening up of its financial services sector, as well as improving the transparency of its currency regime.

We expect the more difficult structural issues, such as cybertheft and industrial subsidies, to be left for later phases. Our expected range for global equities in this scenario is for 0–5% upside from current levels.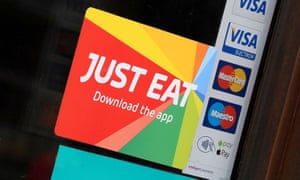 Just Eat has published the offer documents from Takeaway.com, meaning that the British tech firm will be acquired by the Dutch firm by 31 January if 75% of shareholders back the bid.
The Takeaway.com offer, worth £4.7bn, is up against an unsolicited bid by Prosus, an arm of South African firm Naspers.
Jitse Groen, chief executive of Takeaway.com, said:



Today we are taking an important step towards the creation of what we believe will be the world's leading online food delivery company.
However, Just Eat's shares are trading at a premium to the offer, indicating that investors are hoping for a better bid.
European stock markets have caught a cold from Asia: the FTSE 100 is down by 0.5% at the opening bell.
France's Cac 40 has lost 0.5% and Spain's Ibex is down 0.4%.
Europe's Stoxx 600 (which includes many of the above stocks) fell by 0.4%.
Twitter rebukes Conservative party for misleading "fact check" account
Twitter has rebuked the Conservative party for misleading the public by changing its account name to "factcheckUK" during Tuesday evening's general election debate.

With the exceptions of Facebook and perhaps Google, Twitter is arguably the most powerful private company when it comes to the general election. The US social network has banned political advertising, but it usually steers clear of policing content or making decisions about "fake news" from politicians.
However, it drew a line at changing a verified account – with the distinctive blue tick – to seemingly resemble an independent organisation. In a statement unprecedented in British politics, a spokeswoman said:



Twitter is committed to facilitating healthy debate throughout the UK general election.

We have global rules in place that prohibit behaviour that can mislead people, including those with verified accounts. Any further attempts to mislead people by editing verified profile information – in a manner seen during the UK Election Debate – will result in decisive corrective action.
You can follow the political fallout here:
Trump threatens tariff rise in China trade dispute
Good morning, and welcome to our rolling coverage of the world economy, the financial markets, the eurozone and business.
A look at Donald Trump's Twitter feed is enough to tell you that the US president has other things (impeachment) on his mind, but behind the scenes the wheels are still turning on trade negotiations between the US and China.
And Trump's feelings on the matter are still market critical: east Asian indices fell across the board on Wednesday morning following a threat of raising tariffs higher. The CSI 300 index, which measures the performance of stocks in Shenzhen and Shanghai, lost 0.99%, while the Hang Seng index in Hong Kong lost 0.71% and Japan's Nikkei 225 fell by 0.62%.
Speaking at a cabinet meeting at the White House, Trump said he had a good relationship with China, noting that China was "moving along." However, he said China would have to make a deal "I like." He said:



If we don't make a deal with China, I'll just raise the tariffs even higher.
Investor money flowed to safe-haven bonds in response. Yields on US 10-year Treasuries hit a two-week trough of 1.75%, as demand rose: yields move inversely to prices.
That has set the tone for Europe, where futures indicate that stocks on the main indices are likely to fall in value.
In UK corporate news, B&Q owner Kingfisher reported like-for-like sales down by 3.7%, and new chief executive Thierry Garnier made it clear that the company has some upheaval ahead.



My early assessment is that we have not found the right balance between getting the benefits of Group scale and staying close to local markets. We are suffering from organisational complexity, and we are trying to do too much at once with multiple large-scale initiatives running in parallel.
The agenda
8am GMT: Germany producer price inflation (October)
10am GMT: European Central Bank financial stability review
2:30pm GMT: Canada inflation rate (October)
Updated

[ad_2]

Source link Google news