Cabinet reshuffle: Julian Smith sacked as Northern Ireland secretary – live news | Politics
[ad_1]

Julian Smith confirms he has been sacked as Northern Ireland secretary
Julian Smith has confirmed that he has been sacked as Northern Ireland secretary.
Only this morning Smith made it clear that leaving was not his choice. (See 9am.)
Geoffrey Cox has refused to comment on what happened when he met the PM, the Telegraph's Camilla Tominey. That sounds like confirmation he has been sacked.
If Cox is sounding chipper, that may be because he is looking forward to resuming work as a QC. He was the best-paid MP in parliament before he entered government, because of all the legal work he managed to combine with his Commons duties, and although he enjoyed being a minister, it does not seem to have been a lifelong ambition. He was a backbencher for 13 years before Theresa May's surprise decision to make him attorney general in 2018, partly because she needed a Brexiter in that role and partly because his party conference speech introducing her suddenly raised his profile.
Geoffrey Cox seems to have just finished a meeting with the PM, the Times' Steven Swinford reports. We assume Cox is no longer attorney general.
Theresa Villiers, the environment secretary, has just gone in to see the PM, Sky's Joe Pike reports.
From the BBC's Ross Hawkins
Yesterday, speaking at an Institute for Government event, Geoffrey Cox said he would like to stay as attorney general. But he adopted the tone of someone who was not assuming that he would remain in his job, and managed what might have been a valedictory swipe at Dominic Cummings, the PM's chief adviser.
Cox may assume that Cummings has been briefing against him. A government source told the Daily Mail recently that Cox was "not a team player". The source went on:



It's all very well being able to recite Keats but the government needs to come together if we're going to deliver on this election.
Cox is a serious lover of poetry, and can recite large chunks of verse from memory.
And this is from a bit earlier.
Andrea Leadsom, the business secretary, was not in a mood to talk when she arrived at the Commons, it seems.
From Sky's Aubrey Allegretti
This is from the BBC's Jayne McCormack, quoting the Ulster Unionist Northern Ireland assembly member Doug Beattie on Julian Smith. (See 8.35am.)
This chart, from the blogger Peter Donaghy, probably won't be much consolation to Smith if he does get sacked.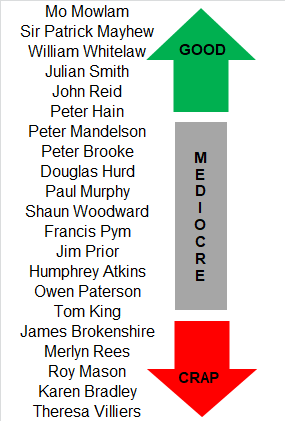 [ad_2]

Source link Google news