Australia beat New Zealand by 86 runs: Cricket World Cup 2019 – as it happened | Sport
[ad_1]

"The wickets haven't been what a lot of people thought," says Kane Williamson. "They're perhaps a bit tired." They have been strange pitches. Virat Kohli said today that everyone was expecting England to dominate in their own conditions. But they haven't been English conditions at all: neither the green seamers of yesteryear, nor the buffet-bar flat tracks of recent ODis in England. The pitches have been slowish, often two-paced, and two-faced – promising runs but delivering wickets, mainly to fast left-armers. Starc took five today, to become the first man ever to take three World Cup five-fors in a career; Trent Boult took four, including a hat-trick, which ended up as a magnificent irrelevance.
Thanks for your company and your emails to Geoff and me. The OBO will be back tomorrow to see whether India really are invincible – and England are doomed.
About 45 minutes ago, Pete Salmon sent this email. "I'm predicting an India v Australia final! Who's with me?!"
The exclamation mark is the clue: the real question is whether anyone is not with Pete. The big four in this tournament has turned into a big two. Australia are now further out in front, with 14 points from eight games, while their only conquerors, India, are second with 11 from six. New Zealand have 11 too, but from two more games, and now with a much worse net run rate (0.57 to India's 1.16). Pakistan have crept up to fourth with nine from eight. Somebody with three defeats is going to fiddle their way through to the semis: England have to make sure it's them.
Updated

The Player of the Match…
…is not Mitchell Starc. Clearly taking five for 26 is not enough. The award goes to Alex Carey, which is fair comment in a way as he turned the match with his fluent strokeplay.
Australia far too good
A game that seemed beautifully poised turned out to be nothing of the sort. It wasn't really a cricket match at all – it was a pair of sadistic experiments. The Aussies, who had been relying rather too heavily on their openers, decided it would be fun to collapse to 90-odd for five, to see if the lower order could bail them out. It did, thanks to Alex Carey, the only man on either side to come in and find the boundary consistently – he hit 11 fours in his 71, which was six more than Usman Khuwaja in his 88, and nine more than any New Zealander.
Armed with 243, which shouldn't be enough, Australia made it even harder for themselves by seeing if their captain Aaron Finch could set a new world record for the most bowling changes in a one-day innings. He chopped, he changed, he behaved like Mike Brearley on speed. He used eight bowlers, many of them starting with one-over spells. It was like insisting on hiring a Volkswagen Beetle when you already have a Bentley. The Bentley, when he went back to it, cruised out and ran over the New Zealanders, who went from 97-2 to 157 all out in 18.1 overs. They were both timid and chaotic at the same time: it was as if they were suddenly being managed by Boris Johnson.
NZ all out! For 157 (Santner c Behrendorff b Starc 12)
It's all over. Starc is now so dominant that he can take a wicket with an awful ball. It's short, it's wide, it's going for at least one wide and possibly six, until Santner helps it round to long leg. That is a drubbing.
43rd over: NZ 157-9 (Santner 12, Boult 2) Santner has been watching this nonsense from the other end, and he's had enough. He swings Lyon for six, then has such a big mow that his inside edge is missed by Carey behind the stumps. Lyon's figures can afford to take a slight dent: he finishes with 10-1-36-1.
42nd over: NZ 144-9 (Santner 5, Boult 0) So that's a wicket maiden for Starc, who now has the frankly ridiculous figures of 9-1-26-4.
Mid-42nd over: Starc on a hat-trick
Nice moment for the pub quizmasters: Trent Boult, who took a hat-trick earlier, comes in to try and stop Mitch Starc taking one. And he succeeds, getting neatly behind a straight one. Finch, so much for being Mr Funky, gave Starc only a slip and a gully for that ball, when Steve Waugh would surely have had six slips, two gullies, a silly point and a short leg.
Updated

Wicket! Ferguson b Starc 0 (NZ 141-9)
Yet another one. Starc's nip-backer is too good for Lockie Ferguson, taking out his off stump.
41st over: NZ 144-8 (Santner 5, Ferguson 0) Lyon races through another tidy over.
40th over: NZ 141-8 (Santner 4, Ferguson 0) Yet another wicket for the majestic Starc. He now has 22 wickets, as many as he got in the whole of the 2015 World Cup, when he was Player of the Tournament.
With the clatter of wickets, I didn't have time to look at Twitter, where a news story may now be developing. "Is that Smith on the grandstand boundary?" says Michael Keane. "Looks like stuff's being thrown at him." Three minutes later he tweets again: "Now lots of security. Getting ugly. And a naval officer. F**k's sake people, this is Lord's."
Updated

Wicket! Sodhi LBW b Starc 5 (NZ 141-8)
Another one! Starc is reversing it now and his inswinger comes booming in to pin Sodhi in front. Sodhi reviews, but it's umpire's call.
39th over: NZ 136-7 (Santner 3, Sodhi 4) A New Zealander plays a decent attacking shot, at last, as Ish Sodhi lofts an off-break from Lyon over the man at short fine leg. That was like a sweep played with an upright bat. It's all over bar the tiny innovations.
Updated

Wicket! Neesham c & b Lyon 9 (NZ 131-7)
Desperate times, desperate measures: Jimmy Neesham tries the skies too and Lyon says "that's mine".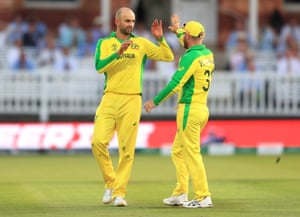 Updated

38th over: NZ 131-6 (Neesham 9, Santner 2) Starc's seventh over goes for just a single. Early on, there was a big four in this tournament. Then England had a wobble and there was a big three. Now it's a big two. The last half-hour means that Australia are more likely to avoid India in the semis, and therefore meet them, back here at Lord's, on July 14.
And here's Geoff Wignall again. "Aren't the Aussies just taking the opportunity to play around with and test their bowling options in a game they don't especially need to win but are going to anyway?" he wonders. "A bad day for England – points for Pakistan and final game incentivising for NZ."
37th over: NZ 130-6 (Neesham 8, Santner 2) A better over for New Zealand: nobody gets out. They need 114 off 13 overs at a rate of nearly nine.
36th over: NZ 126-6 (Neesham 4, Santner 1) So that was three wickets for seven runs in four overs. Devastating from Australia, dismal from New Zealand – but they should still make the semi-finals. If England lose tomorrow, not only do India go through, but they take NZ with them, as England would then be unable to get more than 10 points, and NZ already have 11. Whether they will go any further is doubtful: their excellent early form is draining away.
Wicket!! Latham c Smith b Starc 14 (NZ 125-6)
Latham chips into the leg side, and Smith, cheered by that wicket, takes off like a salmon and catches it like a retriever going after a frisbee. Game over, I suspect.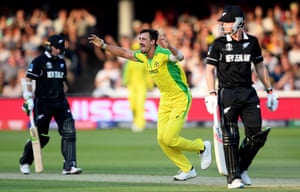 Updated

35th over: NZ 124-5 (Latham 14, Neesham 4) On the progress chart, the black worm is almost going downwards, waving goodbye to the yellow one. These two have 18 off 41 balls between them. They could reverse that in the next three overs and still have a battle to get over the line.
34th over: NZ 121-5 (Latham 13, Neesham 2) Off goes Cummins and back comes Lyon, who whistles through an over for just a single. NZ need another 123 off 16 overs, which suddenly looks like far too many.
33rd over: NZ 120-5 (Latham 13, Neesham 1) So, at last, one of the funky bowling changes comes off. Finch deflects the credit, giving two thumbs-up to the Australian balcony, where Justin Langer is sitting with Ricky Ponting. There had just been a drinks break, smuggled in when Taylor was out, so maybe the message was sent out then. Well bowled Steve Smith, who tried several googlies in that over. The commentators think the wicket-taking ball was one of them, but I reckon it just went straight on.
Updated

Wicket!! de Grandhomme c Khawaja b Smith 0 (NZ 118-5)
How do you turn a drama into a crisis? Launch your first ball, which is also the first ball of a new spell from a part-time leggie, straight to long-off. Oh dear.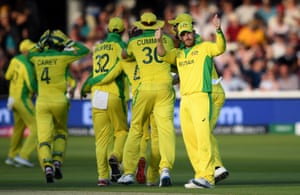 Updated

32nd over: NZ 118-4 (Latham 12, de Grandhomme 0) Taylor had just played a handsome pull for four, so he can't have been feeling too tied down – maybe he was intoxicated. Anyway he tried to be Viv Richards and the upshot is that NZ have lost both their big wickets.
Wicket!! Taylor c Carey b Cummins 30 (NZ 118-4)
Taylor suddenly hits a full ball straight up in the air. I can't even work out how he did that. It stays up there for several minutes, and when it finally comes down Carey does well to keep calm and cling on. Australia are on top.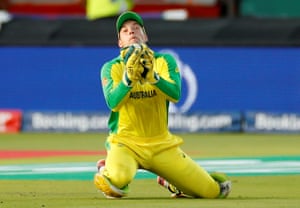 Updated

31st over: NZ 112-3 (Taylor 25, Latham 11) You'll never guess what's just happened. A bowling change! Lyon's off-breaks give way to Maxwell's, which is like replacing Paul McCartney with Noel Gallagher. Maxwell, to be fair, goes for only three, but I'm not sure what Finch is doing here – he could win it with just his main men.
"Good afternoon," says Ed Smyth. "Surely the answer to what happens to the ball in this heat is that the sunburn makes it a Test ball?" Ha. The four serious bowlers are making it feel like that.
30th over: NZ 108-3 (Taylor 23, Latham 9) Finch continues his bid for the world record for bowling changes in one innings by taking Starc off (5-0-18-1) and recalling Cummins. He starts with four dots and rattles both batsmen with his bounce.
29th over: NZ 107-3 (Taylor 23, Latham 8) Another good over from Lyon nearly brings a run-out, as a direct hit comes in and Latham saves his skin by scraping some of it on the pitch, with a very committed dive. I haven't been bothering with the run rate required, as it's been so modest, but it has now reached six and a half.
Updated

28th over: NZ 104-3 (Taylor 22, Latham 6) Starc concedes only a single. Latham is right out of form, which can perversely help a batsman – no better time to clamber out of a slump.
The bowling figures are showing that there's a reason why part-timers are part-timers. Smith, Finch, Stoinis and Maxwell have combined figures of 6-0-34-0, while the four proper bowlers have 22-1-67-3. We're watching two different ball games.
27th over: NZ 103-3 (Taylor 22, Latham 5) It's as if all those part-time bowlers were just a dream. Finch, fully awake now, brings back Lyon, who bowls a better, sharper, more testing over than 0-6 might suggest.
26th over: NZ 97-3 (Taylor 21, Latham 1) So Finch, after being too funky, finds exactly the right note. And Starc is the first man to 20 wickets in this World Cup. The top five are all seamers, and Jofra Archer is the only right-armer, outnumbered by Starc, Lockie Ferguson, Mohammad Amir and Trent Boult.
"How is the heat affecting people?" asks John Starbuck. "You'd think the Aussies would be right at home, otherwise why would they live in an extreme country? It's warm here in t'north but not properly hot, which I gather is the case down south. Does it do anything significant to the ball, though?" It makes it a bit grumpy.
Wicket!! Williamson c Carey b Starc 40 (NZ 97-3)
What do you do when your bowling changes suddenly go wrong? You make another one. Finch summons a proper bowler, Mitchell Starc, and he does the business, moving one away from Williamson for a regulation caught behind. That's the big one.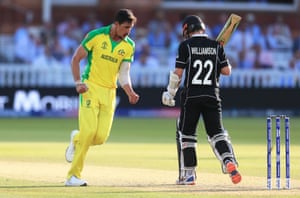 Updated

25th over: NZ 92-2 (Williamson 36, Taylor 20) Maxwell bowls something so slow that Williamson changes his mind a couple of times before driving it, whippily, to mid-off. He picks up a single which takes him to 6,000 in this format. What a player he is, and he confirms it by hitting his next whippy drive in the air, over mid-off. Off the past five overs, New Zealand have doubled the scoring rate (six an over rather than three). And all they've had to do is help themselves from the hotel buffet.
24th over: NZ 85-2 (Williamson 31, Taylor 18) A caption shows that Kane Williamson now has the most singles of any batsman in this World Cup, nudging – or nurdling – ahead of Joe Root. As if hearing this, he suddenly produces a six, flicked into the Mound Stand off Stoinis. That's the first six of the day, as the world's best players do their best to turn the 50-over game into Test cricket.
23rd over: NZ 77-2 (Williamson 23, Taylor 18) As a captain, you have to treat yourself the same way you treat your troops, so Finch banishes himself after a single over, same as Smith. He continues the merry-go-round by sending for Maxwell. The batsmen say thank you very much and enjoy their cartons of milk. Has Finch been too funky?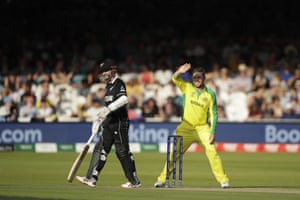 Updated

22nd over: NZ 73-2 (Williamson 22, Taylor 15) Finch makes his fourth bowling change in four overs as Behrendorff finally gets a rest and Marcus Stoinis comes on. The past two overs have been a drink in the desert for the batsmen.
21st over: NZ 68-2 (Williamson 19, Taylor 14) Finch has now officially jumped the shark. He takes Smith off after one over and brings on… himself! One ball is straight from club cricket, a full toss that would be a wide down leg had Taylor not swatted it for four. That;'s the first boundary for nine overs.
Updated

20th over: NZ 61-2 (Williamson 18, Taylor 8) Behrendorff is bowling his ninth over, which is refreshing. Though not for him in this heat, and he shows it by serving up two wides. The legitimate deliveries are on the spot as ever, with one bringing not so much a shout for LBW against Taylor as a plea. It was turned down, rightly, as the ball pitched just outside leg. So the second batch of ten overs produced even fewer runs than the first – 30 rather than 31.
19th over: NZ 57-2 (Williamson 17, Taylor 7) Aaron Finch may not have got runs today, but he's on fire with his captaincy. He sees Lyon doing so well (3-0-6-0) and takes him off, perhaps for a change of ends. And he brings on… Steve Smith, with his part-time leg-breaks. I thought I was joking when I said he might get a three-for.
18th over: NZ 53-2 (Williamson 15, Taylor 5) Williamson breaks the shackles for a moment, cutting Behrendorff for two, and then he's dropped again! And again there's no blame attached, as it was a slower ball and Carey did well to get a fingertip to it, diving away to his right. Williamson is the cat who's got away with giving two quarter-chances.
Updated

[ad_2]

Source link Google news